Due to Double Track NWI project construction and related busing between stations, no bikes will be permitted between South Bend and East Chicago stations until further notice.
Bikes on Trains ends October 31, 2022 and will return for the season in April 1, 2023. 
Bike Trains Schedules
April 1 – October 31, your bike can ride, too!
Riding your bike to work, exploring the bike trails of the Indiana Dunes or cycling Chicago's lakefront bike path just got easier with the South Shore Line's bikes on trains program.
Bike racks located in specified train cars are provided free of charge on a first-come, first-serve basis.
The Bikes on Trains program is offered on five morning and three afternoon/evening rush-hour weekday trains, as well as three morning and seven afternoon/evening off-peak weekday trains. Bike rack-equipped train cars are clearly marked with a bike symbol prominently located on the windows of each car.
Cyclists are asked to enter and exit the bike train cars through the center doors. Upon boarding, bikes are to be placed in the self-locking racks.
Download Brochure
Trails
Ride your bike along Lakeshore Drive in Chicago, explore the trails along the Indiana Dunes National Park,
and experience vibrant downtown South Bend.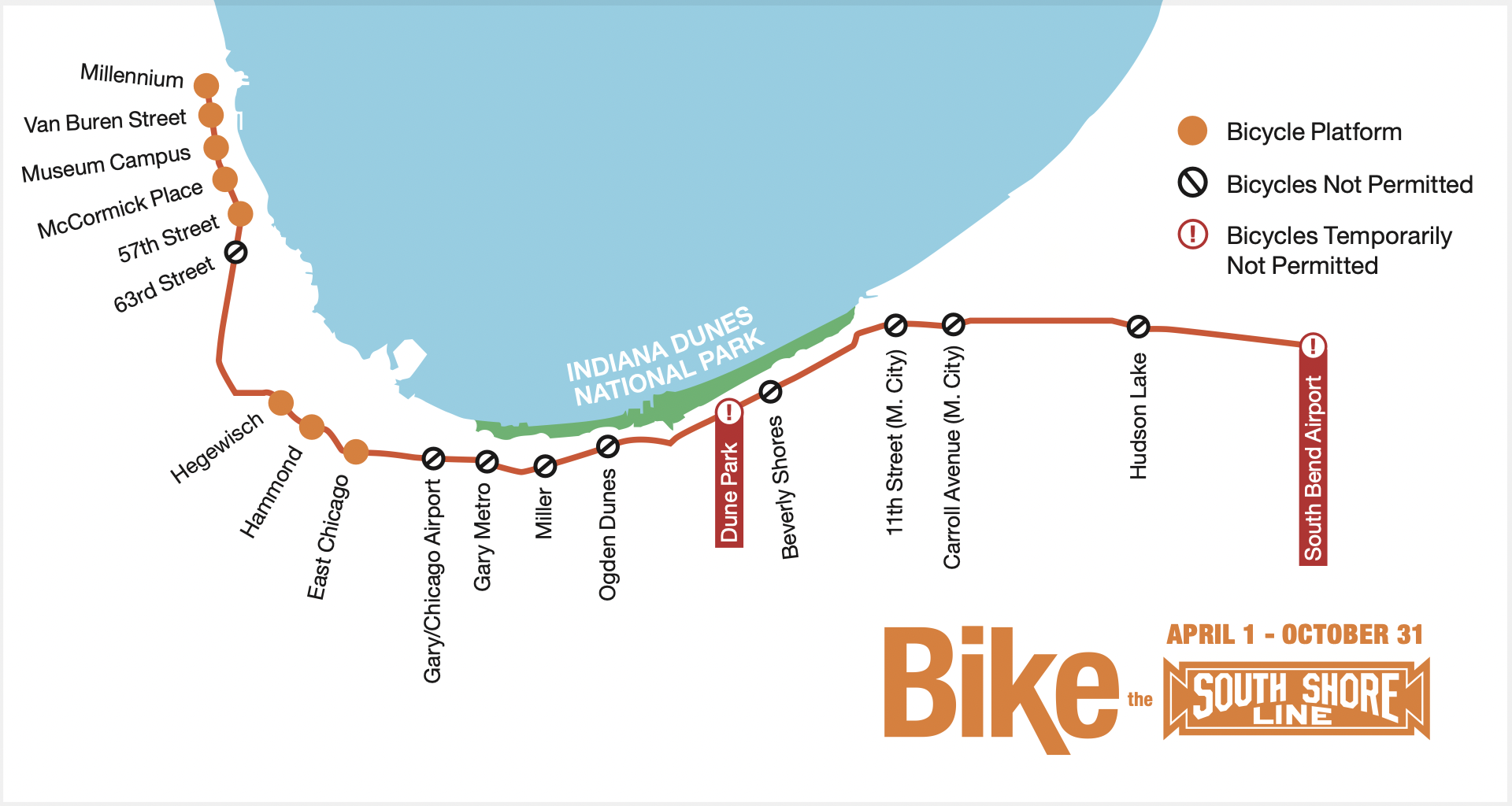 East Bank Trail
Northside Trail
Riverside Trail
West Bank Walkway LaSalle Trail
Calumet Trail
Dunes Kankakee Trail
Bloomingdale Trail
Lake George Trail
Erie Lackawanna Trail
Monon Trail
Wolf Lake Trail
For More Information on Trails, Visit
Please Read Before You Ride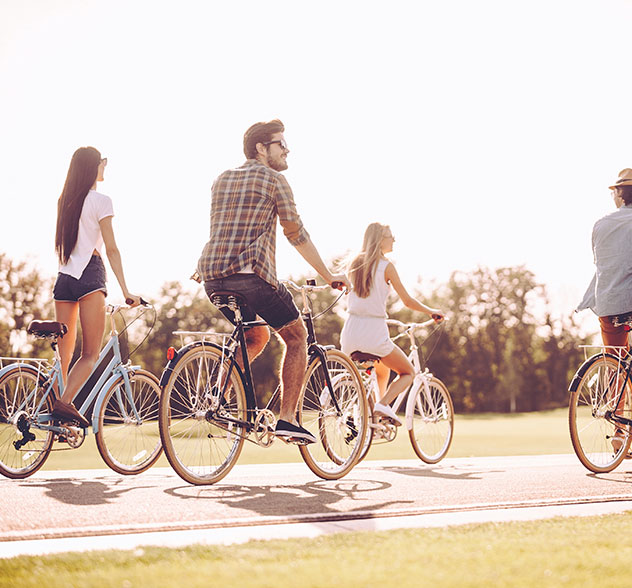 Bicycle is defined as a standard two wheel with a maximum front tire width of 2.5" and maximum distance from front axle to rear axle of 46" (wheel base). Bicycle DOES NOT include: Recumbent, Tricycle, Tandem, Kiddie/cargo trailer.
Bicyclists may board and detrain only from high-level platforms. South Bend, Dune Park, East Chicago, Hammond, Hegewisch, and all Metra stations. Bikes will NOT be loaded or offloaded at low level platforms.
The train will depart the station after passengers have boarded. Please exercise caution as the train may move before your bike is inserted in the rack. Push up on the self-locking mechanism to release your bike.
No riding on station platforms.
No additional fare collection applies for a bicycle brought aboard a train.
Bike cars are located on the rear of westbound trains and the front of eastbound trains.
Operating crews are not to handle bicycles. Movement of the bicycle in and out of bike rack is the responsibility of the bike owner.
Train crews have the final authority on accommodating bicycles. Crews may prohibit a cyclist from boarding due to overcrowding.
Bikes will be handled on a first-come-first-served basis. Space is not guaranteed on an initial or return trip (including late night trains).
Bikes may not block aisles or impede passenger movement, and cyclists must accompany their bikes at all times.
Bikes should be free of dirt and grease prior to boarding.
Be considerate of your fellow riders by first allowing passengers using mobility devices to board and disembark.
Bikes may not be permitted during special event weekends such as: Blues Festival, Taste of Chicago, Lollapalooza and the Air & Water Show.
In the event of an emergency evacuation, cyclists must leave their bicycles on the train.