Safety
Nothing is more important than the safety of our passengers. Our goal is to
transport you to your destination as safely as possible every time. Many accidents can be avoided. Please review the below safety tips, so you can have the safest, most enjoyable ride possible.
Report an issue in real-time or call 911 with the South Shore
See Say App!
To serve you best and keep passengers safe, we encourage and depend on riders like you to report if you see a potential issue with service, maintenance, or safety.
Select a report type
Select a location
Give a brief description
Include an image
Once you submit your report, your information will be passed on to the appropriate party.
Download from the App Store or Google Play today.
Sanitized for Rider Safety
Throughout the COVID-19 pandemic, SSL has invested a tremendous amount of time and resources into taking enhanced precautions and implementing new procedures for the health and safety of passengers, as well as train personnel. The SSL is furthering the safety measures being taken through its Sanitized for Rider Safety program, a comprehensive cleaning and health and safety program.
SSL invites riders to look for the Sanitized for Rider Safety seal in the stations and train cars within the next several weeks. "We want our riders and crews to know that we have their safety at the forefront of our service," said Michael Noland, President of South Shore Line. "We know that health and safety concerns are now at the top of everyone's minds, and we are hoping that the SSL can offer peace of mind as riders start and end their days with us." SSL sanitization procedures include disinfecting seats, windows, crash pads, handrails, door handles, head rests and grab handles. Each train car is mopped with a stringent disinfectant, and the SSL has also purchased state-of-the-art equipment that fogs train cars with disinfectant.
SSL recommends the following guidelines for passengers:
Utilize hand sanitization stations available on each train car
Refrain from congregating in train vestibules
Avoid touching your mouth, nose, or eyes while on train
Wash hands frequently and follow CDC recommendations for hand washing
Cover your mouth and nose with a tissue or the inside of your elbow when you cough or sneeze
Respect the personal space of all passengers to the best of your ability
Watch Commerical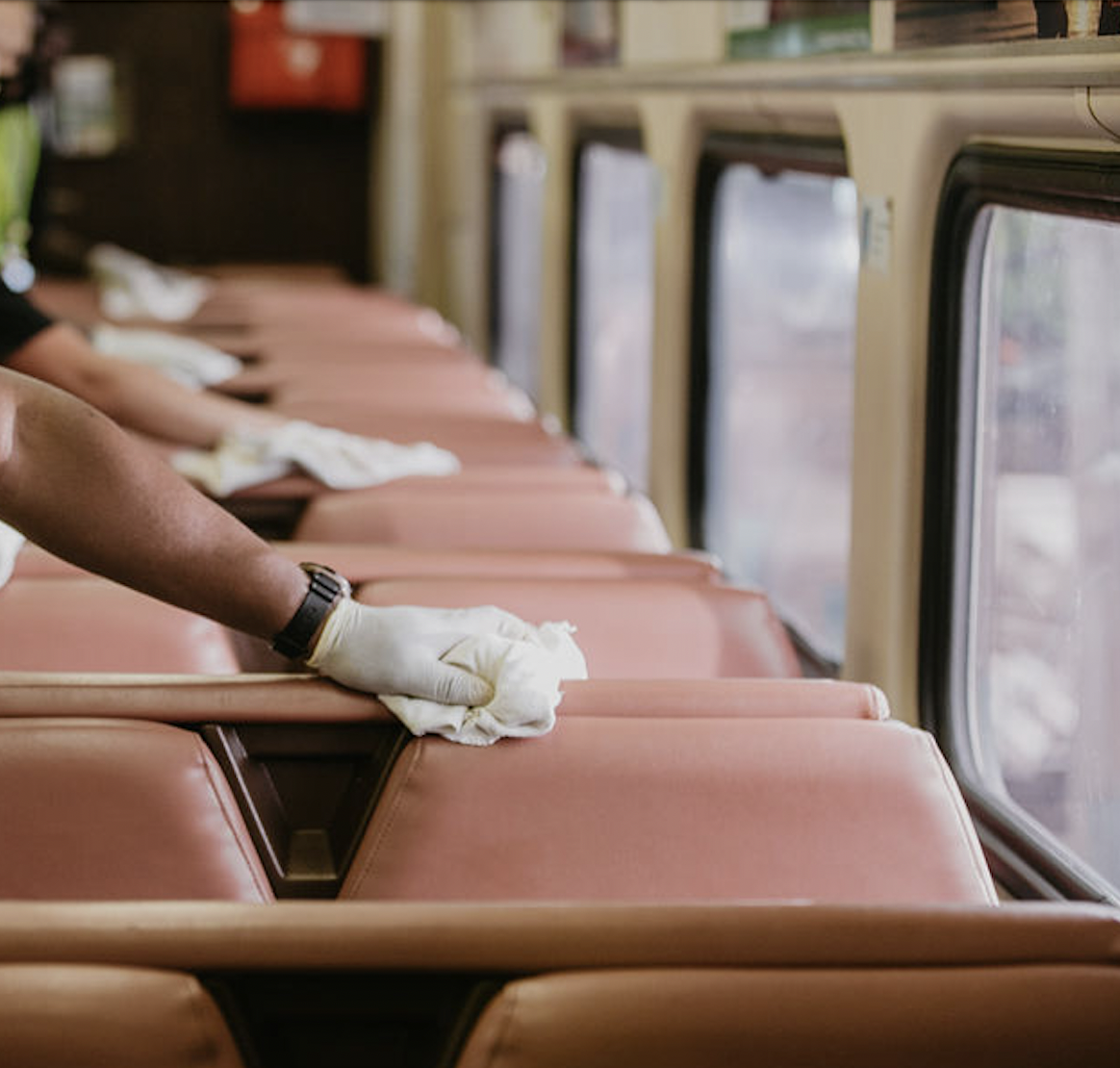 Transit Police
As Indiana's only municipal transit police department, NICTD Transit Police are responsible for the safety and security of approximately 3.8 million passengers annually and a 90-mile rail system that extends from the South Bend Regional Airport to downtown Chicago. Police headquarters are located in East Chicago, Indiana. Officers have bi-state law enforcement authority for Indiana and Illinois.

General Safety Information
Parking Your Car
Always remain alert and attentive to potential danger, especially at night
Have your keys ready when you go out to your car. Look inside your vehicle before entering it. Don't sit alone in a parked car
Commuters waiting for a ride should stand in a well-lighted area
Always roll up your windows, lock your vehicle, and pocket your keys
Remove all valuables inside your vehicle from plain view
Utilize vehicle anti-theft devices
Stations & Platforms
Never stand at platform edges or lean over yellow line
Look both ways before crossing a railroad track (Stay off the tracks when possible)
Always use stairways and hand rails
Never leave children unattended
Never run in the parking lot, station, on the platform or to catch a train
Look both ways before walking through parking lots and use cross walk
Never lean against a railroad car
Never try to retrieve dropped articles from tracks. Notify an SSL employee if you drop belongings
Cross tracks only at designated crossings
Walking on or along the tracks or crossing the track at unauthorized locations can result in serious injury or death
Use caution when wearing headsets or using cell phone near track or waiting on platforms
Boarding & Exiting
Watch the gap between the platform and the train when boarding or leaving
Use the hand rails in stairwell when boarding or leaving a train
Never try to board or leave a moving train
Always allow passengers to exit before you attempt to board
On The Train
Whenever possible, remain seated until your station is announced
Never put a hand, foot, briefcase, or other object between the doors
Never ride between cars
Be prepared for sudden starts, stops, or changes in direction
Avoid changing cars while a train is in motion
Never leave parcels, luggage, or other belongings in the aisle
Never leave children unattended
Never lean on train doors
Never extend your head or arms out of train windows
AED (Automated External Defibrillator)
Did you know the SSL has AEDs on all train cars? This lifesaving equipment is used to help those experiencing sudden cardiac arrest.
For single level cars, Automated External Defibrillators (AEDs) are located on the "B" end (eastbound direction) wall inside the passenger compartment. That includes cars 1-48, 101-110, 201-210.
For gallery cars 302, 304, 306, 308, 310, 312, 314, all AED's are located on the "B" end (eastbound direction) wall inside the passenger compartment. For cars 301, 303, 305, 307, 309, 311, 313, they are located on the "F" end (westbound direction) wall in the passenger compartment.
Our SSL onboard crew members attend a required CRP/AED with basic 1st aid training class annually. In an emergency, call 911 or NICTD Police at (219) 398-6000.
Extreme Weather
In the interest of safety and to ensure that passengers make it to and from their destinations in a timely manner during extreme weather, the South Shore Line may run modified schedules, annul trains or suspend train service completely.
Thunderstorms, high winds, or tornado threats can cause significant delays due to the necessary decrease in operating speeds, or service may be suspended altogether. Extreme temperatures – cold or heat – can affect the train equipment and/or rail lines themselves, also resulting in a decreased operating speed or suspended service.
During extreme winter weather, snow and ice can build up causing interference with switches, resulting in delays. When snow and ice clog switches, the railroad's signal system warns trains to operate with caution, and for train crews to observe and manually clean and line switches as necessary. Preventative measures are in place to reduce this occurrence, but it is still a possibility in some conditions.
Sign up for our service alerts and delays notifications via email or SMS for the most up-to-date service information. The website and social media may also reflect changes to SSL train service.
Emergencies
In an emergency, call 911 or NICTD Police at (219) 398-6000.
Every car has clearly marked Emergency Exit Windows and Doors.
In the event of an emergency, remember:
Stay calm and listen carefully for announcements from the train crew
Remain on the train unless instructed otherwise by NICTD or emergency personnel
Offer assistance to disabled passengers and help disabled passengers in wheelchairs exit with their wheelchairs in an evacuation
In the event of a fire, immediately inform any station or train employee. Trains have fire extinguishers, fire axes, and first aid kits located in all cars and are intended for use by train crews. If there is a fire or smoke condition in your car, immediately move to the next car
Please alert train crew to medical emergencies
Report suspicious behavior or activities to your train crew
Parking Your Car

Always remain alert and attentive to potential danger, especially at night
Have your keys ready when you go out to your car. Look inside your vehicle before entering it. Don't sit alone in a parked car
Commuters waiting for a ride should stand in a well-lighted area
Always roll up your windows, lock your vehicle, and pocket your keys
Remove all valuables inside your vehicle from plain view
Utilize vehicle anti-theft devices

Stations & Platforms

Never stand at platform edges or lean over yellow line
Look both ways before crossing a railroad track (Stay off the tracks when possible)
Always use stairways and hand rails
Never leave children unattended
Never run in the parking lot, station, on the platform or to catch a train
Look both ways before walking through parking lots and use cross walk
Never lean against a railroad car
Never try to retrieve dropped articles from tracks. Notify an SSL employee if you drop belongings
Cross tracks only at designated crossings
Walking on or along the tracks or crossing the track at unauthorized locations can result in serious injury or death
Use caution when wearing headsets or using cell phone near track or waiting on platforms

Boarding & Exiting

Watch the gap between the platform and the train when boarding or leaving
Use the hand rails in stairwell when boarding or leaving a train
Never try to board or leave a moving train
Always allow passengers to exit before you attempt to board

On The Train

Whenever possible, remain seated until your station is announced
Never put a hand, foot, briefcase, or other object between the doors
Never ride between cars
Be prepared for sudden starts, stops, or changes in direction
Avoid changing cars while a train is in motion
Never leave parcels, luggage, or other belongings in the aisle
Never leave children unattended
Never lean on train doors
Never extend your head or arms out of train windows

AED (Automated External Defibrillator)

Did you know the SSL has AEDs on all train cars? This lifesaving equipment is used to help those experiencing sudden cardiac arrest.

For single level cars, Automated External Defibrillators (AEDs) are located on the "B" end (eastbound direction) wall inside the passenger compartment. That includes cars 1-48, 101-110, 201-210.
For gallery cars 302, 304, 306, 308, 310, 312, 314, all AED's are located on the "B" end (eastbound direction) wall inside the passenger compartment. For cars 301, 303, 305, 307, 309, 311, 313, they are located on the "F" end (westbound direction) wall in the passenger compartment.

Our SSL onboard crew members attend a required CRP/AED with basic 1st aid training class annually. In an emergency, call 911 or NICTD Police at (219) 398-6000.

Extreme Weather

In the interest of safety and to ensure that passengers make it to and from their destinations in a timely manner during extreme weather, the South Shore Line may run modified schedules, annul trains or suspend train service completely.

Thunderstorms, high winds, or tornado threats can cause significant delays due to the necessary decrease in operating speeds, or service may be suspended altogether. Extreme temperatures – cold or heat – can affect the train equipment and/or rail lines themselves, also resulting in a decreased operating speed or suspended service.

During extreme winter weather, snow and ice can build up causing interference with switches, resulting in delays. When snow and ice clog switches, the railroad's signal system warns trains to operate with caution, and for train crews to observe and manually clean and line switches as necessary. Preventative measures are in place to reduce this occurrence, but it is still a possibility in some conditions.

Sign up for our service alerts and delays notifications via email or SMS for the most up-to-date service information. The website and social media may also reflect changes to SSL train service.

Emergencies

In an emergency, call 911 or NICTD Police at (219) 398-6000.
Every car has clearly marked Emergency Exit Windows and Doors.
In the event of an emergency, remember:

Stay calm and listen carefully for announcements from the train crew
Remain on the train unless instructed otherwise by NICTD or emergency personnel
Offer assistance to disabled passengers and help disabled passengers in wheelchairs exit with their wheelchairs in an evacuation
In the event of a fire, immediately inform any station or train employee. Trains have fire extinguishers, fire axes, and first aid kits located in all cars and are intended for use by train crews. If there is a fire or smoke condition in your car, immediately move to the next car
Please alert train crew to medical emergencies
Report suspicious behavior or activities to your train crew